Group Aquatic Classes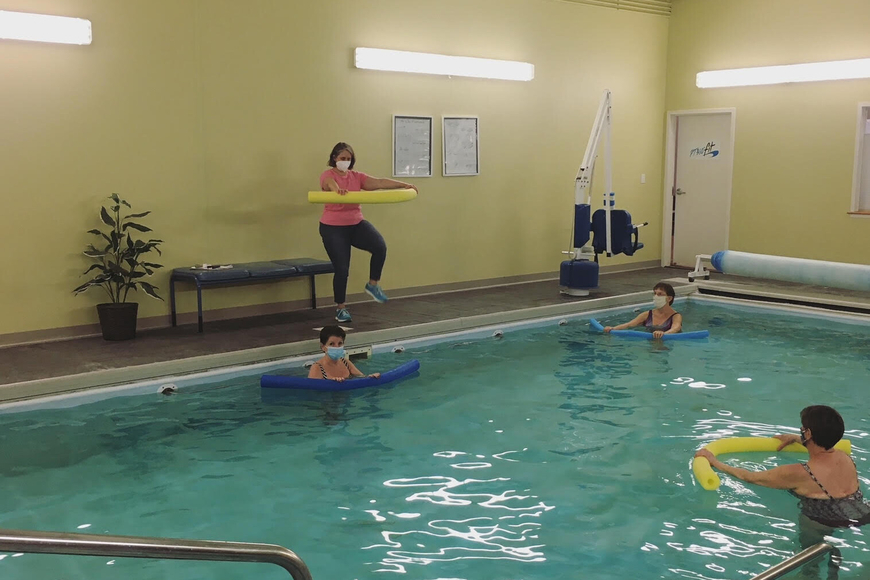 Aquatic based exercise is a great way to create a community that allows participants to socially distance while becoming a strong family each week when we gather together. The 92 deg salt water pools at PT360 provide a healing environment that allows for greater benefits year round. Friendships have developed, sharing laughter, recipes, and community development too. For some, the pool is the only way they will exercise and to have it as a group setting is even better together!
Making Waves specializes in building muscle strength and endurance with the use of a pool noodle and enhancing aerobic capacity. It assists with gait and locomotion. Paula Renchy
reported that "it's the only way I can manage my sciatica". Building muscle strength and endurance has helped to avoid falling injuries and prolonged time between the medical
necessity for joint replacements as well.

Meanwhile, Ai Chi assists in reducing stress and promoting relaxation through a progression of range of motion exercises. Both the upper and lower parts of the body gain postural control and improved balance. Susan Rabner, a participant in both programs, states, "I can get in and out of a car much easier with improved flexibility!"
PT360 hosts aquatic classes in our Shelburne offices on multiple days throughout the week! Classes are limited to no more than six people and are currently held:
Mondays @ 10am and 2pm - Making Waves
Tuesdays @ 11am - Ai Chi
Thursdays @ 10am - Ai Chi
Fridays @ 2pm -Ai Chi
If you have any questions or would like to sign up for a FEW available slots in July, simply reach out our instructor, Heather Chernyshov, MS, ATC, NCTMB
Next Blog Post
PT60's classes, or as we like to call them, Small Group Trainings (SGT), are offered exclusively at our South Burlington location. Small group training sessions consist of 8 participants or less, offering you more 1-1 attention for your personal needs and goals.  These trainings were born out of the…