Let's Get Physical! - An Interview With Our Very Own Jen Farrugia, MS, ATC, CSCS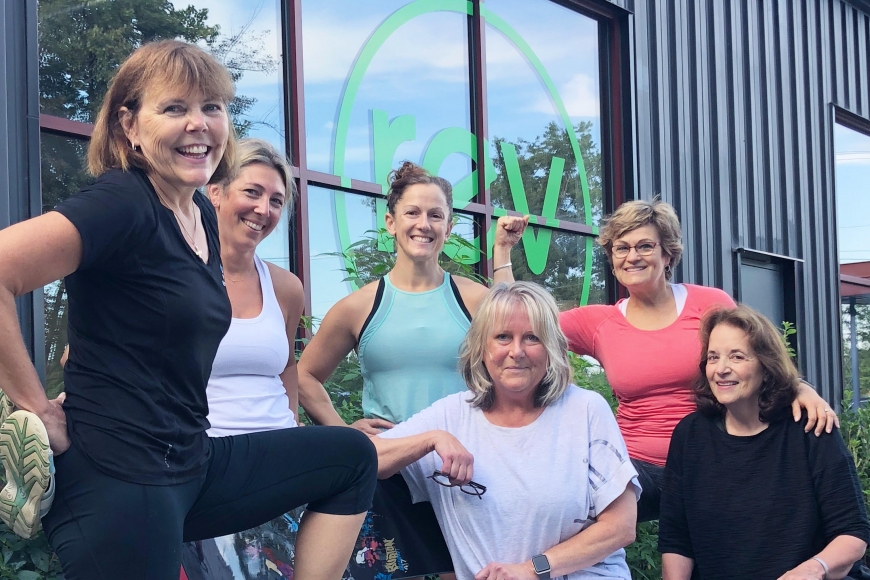 This September, PT360 will be highlighting the classes that we offer and a little insight behind why we offer them. To kick things off, I wanted to showcase one of our very own, Jen Farrugia, MS, ATC, CSCS. Jen and I earned our Bachelor of Science degrees in Athletic Training together at the University of Vermont. I was very excited when Jen joined our team in 2018 and I was ecstatic when PT360 and REV Indoor Cycling partnered together to create an unstoppable team earlier this year. Currently, Jen works out our South Burlington location inside REV, teaching several classes and performing skilled rehabilitative medicine.
I sat down to interview Jen and to highlight a class of her choosing.
All about Jen!
"I graduated from the University of Vermont in 2010 with my Bachelor of Science in Athletic Training. Upon entering the sport medicine field, I became a Certified Strength and Conditioning Specialist through the National Strength and Conditioning Association. After two years, I went back to school and received my Masters in Athletic Training from West Virginia Wesleyan. Since graduating, I have pursued other interests and have a Strong First Kettlebell Level 1 Certification, USA Weightlifting Level 1 Coaching Certification, and Functional Movement Screen Certification."
Andy: What motivates you?
Jen: Helping individuals achieve goals they did not think they were capable of when starting.
A: What's your favorite song on your playlist that pumps you up?
J: Oh wow, anything Jock Jams!
A: What two words best describe you?
J: Energetic and encouraging
A: What is your newest class?
J: Fit Over 40 - Winter Edition
A: What is this class specifically geared towards?
J: This strength training series will teach you the movements you need to maintain muscle tone, bone mineral density, increase flexibility, and increase stability, all while successfully preparing you for winter activities. Preparation is instrumental to a successful, injury-free winter! This 12 week series will be progressive in nature to build single leg strength and stability, as well as core and shoulder endurance to set you up for a successful winter season, and allow you to enjoy the outdoors with improved enthusiasm and strength. The small groups allow for more one-on-one attention, they are intimate, fun, & encouraging!
A: What is the most exciting thing about this class?
J: To hear stories of how much more successful clients are in their everyday life - walking upstairs without getting out of breath or that they were able to pick up their child or grandchildren with more confidence and strength."
A: What are the goals or outcomes this class is striving to accomplish?
J: I want to improve the quality of life for everyone around me.
You can check out Jen's class offerings and others on our Classes webpage - don't hesitate to call or email the instructors to find out more!
Next Blog Post
Summer is the season for traveling and it's no wonder why – the days are longer & warmer, the kids (if you have them) are free from school, and there are more events on the calendar than there are seagulls on the beach.  We head to the mountains, to the beaches, and to the cities to explore new areas…