Get Primed For The Golf Season!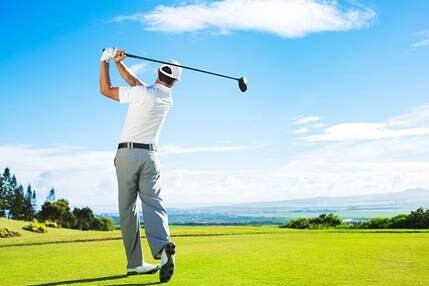 Many local golfers are itching to get back on the course as the weather warms up, and we need to make sure our bodies are prepared for the demands required of us to swing the club efficiently. Therefore, now that it is safe for us play golf with friends and family again, and the safety precautions pertaining to coronavirus are loosenening, we need to do the same "loosening" to our bodies to get ready to swing a golf club again!
As a certified medical professional through the Titleist Performance Institute, I have outlined 4 of my personal favorite exercises to loosen up my joints and get my muscles primed before a round of golf. Give these quick drills a try!
Bridges
Purpose: strengthen and wake up the glutes and core muscles. The glutes and core are extremely important muscle groups for staying in posture and developing power during the golf swing.
Instructions: Perform 2-3 sets of 10 reps. Hold for 3 seconds at the top, squeezing the glutes and abdominal muscles.

Open Books
Purpose: loosen up the shoulders, middle, and lower back to prepare your body for the rotation required from the golf swing.
Instructions: Perform 10 reps on each side, slow and controlled, holding for 5-10 seconds

Hip Openers
Purpose: one of my favorite drills to help loosen up the hips and help prepare them for the rotation required from the golf swing.
Instructions: slowly rotate the legs from side to side for 2 sets of 10 reps

Cat-Camel
Purpose: warm up the back, hip, and core muscles - better preparing the whole body to transfer energy through the hips and core during the swing.
Instructions: perform 2 sets of 10 reps, slow and controlled.

Just in case pictures aren't enough, Sam Messenger, ATC demonstrates all of these exercises on our YouTube channel:
If you have pain with your golf game and are looking to begin an individualized physical therapy specifically for golfers, you can use your health insurance to begin our Tee Up! With PT360 program! Shoot me an email or call our Williston office to inquire about available appointments.
Stay safe out there, and hit 'em straight!
Next Blog Post
What are the "Small Group Trainings" at PT360? And who are they for?   Fit Over 40 Small Group Training, Jen Farrugia's signature program, was born out of the idea that it isn't always ideal to go directly back into group fitness classes right from orthopedic rehabilitation if the patient is not feeling…