Cooking with Katie - Turmeric Chickpea Chicken Soup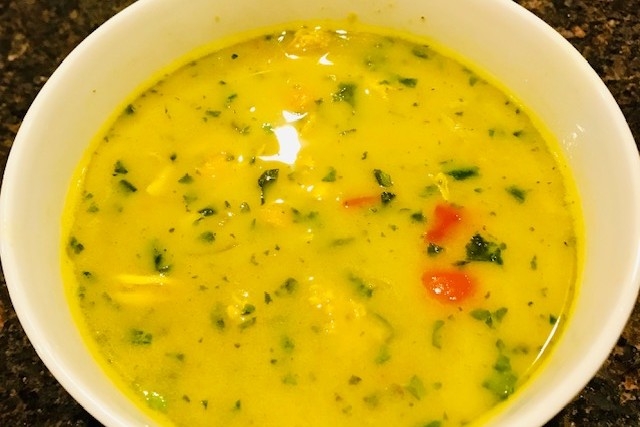 Did you know that turmeric has been used for centuries for its natural healing properties? The Arthritis Foundation cites several studies show evidence for turmeric reducing inflammation in people with arthritis. Not only that, but turmeric has been said to aid in digestion, reduce the risk of cancer, and even improve your skin! Most importantly though, it tastes delicious.
Turmeric is a golden colored tuber that has an earthy flavor and is a great way to season soups, vegetables, or proteins. Turmeric is typically found in curries, and is also used to make yellow mustard yellow. I found this particular recipe in Cooking Light magazine.
Ingredients:
Skinless Chicken Breast - 1 lb
Olive Oil - 1 tbsp
Onion, chopped
Garlic - 2 cloves, minced
Red pepper, chopped
Turmeric - 2 Tsp powdered (find fresh equivalent)
Fresh Ginger - 1 Tsp, grated
Salt/pepper
Chickpeas - 2 cans, rinsed
Light Coconut Milk - 1 can
Unsalted Chicken Stock - 4 cups
Lime Juice - 2 Tbsp
Basil - ¼ cup Fresh
Directions:
Heat olive oil in a large pot over medium high heat. You will want to season your chicken with salt and pepper and cook until brown on each side.
Remove browned chicken and place on a plate while you prepare the base of the soup. Reduce your heat to medium and add pepper and onions to until softened.
Add the turmeric, ginger, and garlic to pepper and onion mixture and stir occasionally for about 5 minutes.
Pour in chicken stock and rinsed chickpeas. You can add your chicken back in, increase heat to high, and wait until it boils.
After it's reached its boiling point, reduce your heat to medium and let simmer until the chicken is cooked through (about 15 minutes).
Remove the chicken and shred with 2 forks, then return to pot.
Lastly, stir in the coconut milk, basil, and lime juice. Let cook for several more minutes, then serve!
I really enjoyed the different textures of this soup and appreciated the substitution of chickpeas instead of noodles, which makes this recipe gluten free! With fall (and cold season) in full swing, it seems that turmeric may help heal any of your ailments. If you are in the mood for a comforting and flavorful dinner, then this is the recipe for you!
**Additionally, this is a soup that could easily be made vegan by replacing chicken stock with veggie stock and not using chicken. Chickpeas are full in protein and fiber so they could be used alone in the soup and still fill you up! The broth is very accommodating to a wide variety of ingredients and would be delightful with adding sliced carrots, small pieces of cauliflower, cubed white potatoes, minced spinach, tomato wedges and/or toasted peanuts to this soup.
Next Blog Post
On September 25th, 2018, Andrea Onetto began her four week fellowship with PT360 and she came all the way from Chile!  Andrea is a physical therapist in her home country of Chile, where she has completed her schooling and opened her own private practice a few years ago at a young age.  She applied through…