Cooking with Katie - Summer Watermelon Salad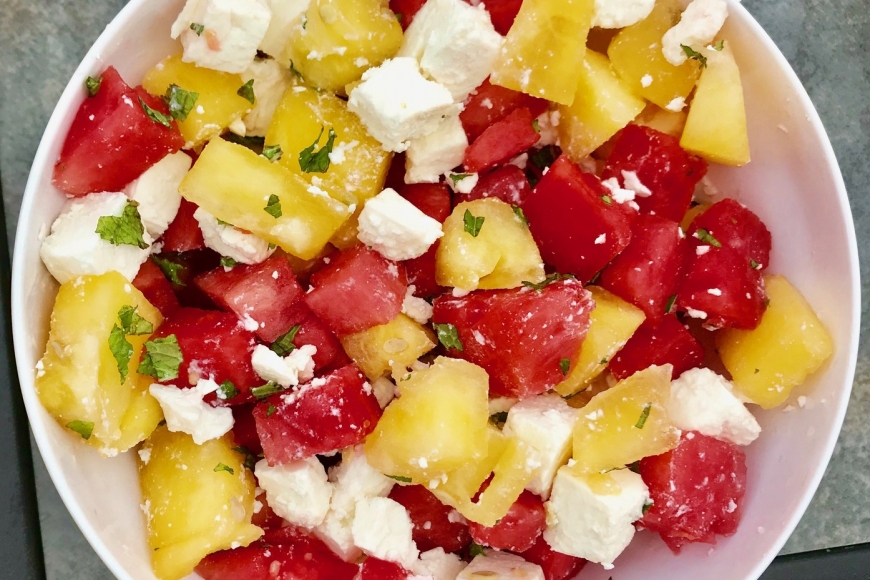 Watermelon salad, you say? Sounds interesting right?! I have to admit the name threw me off at first. For me, watermelon is to be enjoyed at a picnic table on a hot summer day, preferably with cold watermelon juice dribbling down my chin. But listen, I have found a new refreshing way to enjoy watermelon that will not only make you feel extra fancy- it will also satisfy your sweet and salty cravings. This recipe is sure to be a new favorite of yours because it's simple (3 ingredients), it's healthy, and it tastes great!

Ingredients:
Watermelon - 10 cups cubed/or use a melon-baller
Feta- 2 cups cubed/crumbled
Mint leaves- 1 cup coarsely chopped
Combine these three ingredients in a bowl and enjoy immediately for a refreshing blast of summery flavor! This recipe is a great base and you can personalize it any way you like. I know people that add arugula, lemon, tabasco, cucumber, tomato, or even switch it up with goat cheese. Keep this recipe in mind if you need to bring a dish to your next outdoor gathering and it'll be the talk of the party!

**side note: Did you know that watermelon also comes in a yellow color? I sure didn't! That was quite a surprise for me when I sliced one open! It tastes like red watermelon, maybe just a touch sweeter. If you're like me, and happen to accidentally purchase a yellow watermelon instead of red; don't fret! I used it in the salad and I think it gave the dish a nice pop of color.
Next Blog Post
Happy Summer 2018! The summer season has begun, which means long days of sun (we hope), warm weather (we hope, again), and for many of us....VACATION!  We look forward to this all year long, as a getaway brings exploring new or favorite places, trying seasonal foods, and a change of routine. One routine…