AQUATIC FITNESS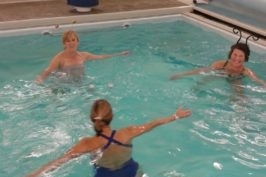 What is Aquatic Fitness?
Water has been, and still remains, the best environment to achieve full function, regardless of the injury. Water improves motion and flexibility. The warmth of the water (92°F SALT WATER in our pools) and its massaging effects allow muscles to relax while helping to reduce pain. The natural buoyancy reduces gravitational pull and lessens compressive forces, making exercises much easier to perform than on land. Best of all, aquatic therapy can be used even if a patient does not know how to swim.
Benefits of Aquatic Fitness:
Warm water facilitates muscle relaxation and increases peripheral circulation.
Warm water also stimulates body awareness, balance, and trunk stability.
Viscosity of water provides resistance for strength training.
Reduction of gravitational forces in the pool allows patients to stand and begin gait training & strengthening exercises without causing further damage to healing structures.
Warm water and buoyancy results in decreased pain sensitivity.
Improvement of patient morale and confidence can be established by providing a positive medium in which to function.

Our Aquatic Fitness Programs at PT360:
Better together! The aquatic programs at PT 360 allow for a community of up to 10 people who share common goals for fitness and fun. Our aquatic fitness programs consists of supervised exercises performed in the water. Swimming is not a prerequisite skill. Click here for our class schedule!
Special Trial Offer!
If you would like to "try" one of our classes, you can come to any ongoing class with a donation made to a charity. Simply bring in the receipt of the charitable donation and that will be the fee to participate.
Next Blog Post
Vermont once again was ranked in the top 10 healthiest states in the United States in 2016. Many Vermonters therefore enjoy being active and taking charge of their health, which includes seeking out physical therapy if an ache or pain pops up. Why PT360 for Physical Therapy in Vermont? With multiple…