A (Fairly) Brief History of Physical Therapy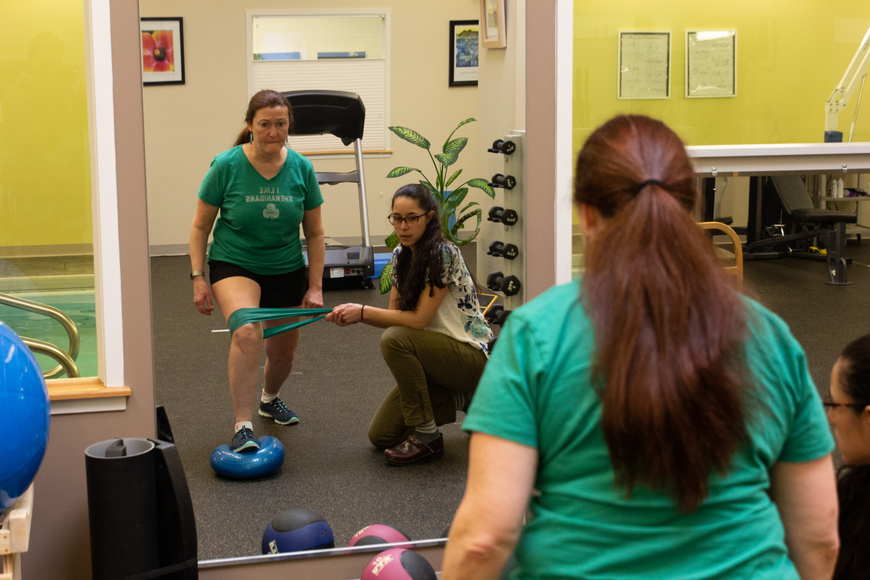 Did you know that October is more than just the month when you can enjoy pumpkin-spiced-anything-and-everything, binge on apple cider donuts, and layer on the flannel & oversized scarves? While I certainly enjoy partaking in all the above, October is extra special to me because it's also National Physical Therapy Month.

One reason I love being a physical therapist is that I work in a field that is constantly growing and striving to improve. Physical therapists around the world are conducting research to determine ways to improve and advance our examination and treatment skills in order to better serve our patients. While I'm excited for where my field is going, in honor of PT month, I thought I'd devote some time to look back and appreciate how far the profession has come.

What many people may not know is that the development of the physical therapy profession can largely be attributed to the polio virus and WWI. Polio emerged near the end of the 19th century, growing into a far reaching epidemic by the 1950s. Severe muscle weakness, paralysis, and even death became widespread among infants and children in staggering numbers. To treat the children impacted by polio, many young women became trained in providing rehabilitative services such as massage, passive range of motion, hydrotherapy, and remedial exercise. During the same period, World War I became another call to arms for young women trained in rehabilitation, this time to treat injured soldiers. The U.S. Army Medical Department established the Division of Physical Reconstruction, under which these women, known as "Reconstruction Aides," assisted orthopedic surgeons in military hospitals in the U.S. and overseas.

The continued need for highly trained Reconstruction Aides was the catalyst for institutionalizing physical therapy as its own profession. The first school of physical therapy was established at Walter Reed Hospital in Washington D.C. in 1918, headed by Reconstruction Aide Mary McMillan. Commonly known as "the mother of physical therapy," McMillan also established the first physical therapy professional association in 1921, now known as the American Physical Therapy Association (APTA).

With the onset of World War II, followed by the Korean War, the demand for physical therapists to treat injured soldiers continued to grow through the 1940's and 50's. Thanks to advancements in medical and surgical management, increasing numbers of soldiers were surviving their wounds, and the need for rehabilitation extended to soldiers returning home with disabilities. With the passing of the Hospital Survey and Construction Act of 1946 and the creation of new hospitals across the country, physical therapy services became increasingly common in hospitals and more accessible to the general public.

The 1950's also marked the transition of physical therapists as technicians working under a physician to autonomous professionals. In 1954, the APTA developed a 7-hour competency examination through the Professional Examination Service and physical therapy private practice started to grow. The APTA also pushed for the expansion of physical therapy schools, and by 1950 there were over 30 accredited programs in the United States.

Physical therapy's scope of practice continued to grow beyond its initial base in army hospitals, treating primarily musculoskeletal injuries. The Vietnam War resulted in soldiers requiring rehabilitation for neuromuscular disorders that could not be addressed by orthopedic surgeons. Medical and surgical advancements lead to a need for physical therapists to provide pre- and post-operative cardiopulmonary rehab. The advent of joint replacement surgeries in the 1960's and 1970's carved out the need for orthopedic physical therapy.

As the breadth and depth of practice continued to grow, the APTA recognized the need to expand and advance physical therapy educational programs. Over the years, these programs evolved from certificates, to baccalaureate degrees in the 1950's, to master's degrees in the 1980's, and doctoral degrees in the 2000's. Today, physical therapy programs have extremely rigorous curricula, which prepares graduates to practice in any setting. Our advanced training and clinical skills have also earned us the responsibility of being direct access providers in all 50 states as of 2015.

It's amazing to see just how much the field has grown in the past century. Physical therapists today work with a wide range of patient populations and settings, practicing in schools, hospitals, outpatient clinics, rehab facilities, and providing home care. Our scope of practice also includes treating a variety of conditions, whether they be orthopedic, post-surgical, developmental, neurological, sports, women's health, wound care, lymphedema, among others.

Physical therapists have come a long way from our founding mothers, the Reconstruction Aides, but thanks to their hard work and dedication, we have become the autonomous, knowledgeable, skilled, and passionate Doctors of Physical Therapy of today.

References
"Today's Physical Therapist: A Comprehensive Review of a 21st-Century Health Care Profession." American Physical Therapy Association, Jan. 2011.
Shaik, Abdulrahim, and Arakkalmaniyat Shemjaz. "The Rise of Physical Therapy: A History in Footsteps." Archives of Medicine and Health Sciences, vol. 2, no. 2, 2014, p. 257., doi:10.4103/2321-4848.144367.
Next Blog Post
This month we are celebrating Physical Therapy (PT) in a big way at PT360! Not only is it National Physical Therapy Month, but it's also 100 years since the American Physical Therapy Association was established, the overseer of all things PT. Give us a reason to celebrate and we will run with it!   Physical…