We're Kicking Off National Physical Therapy Month This Week!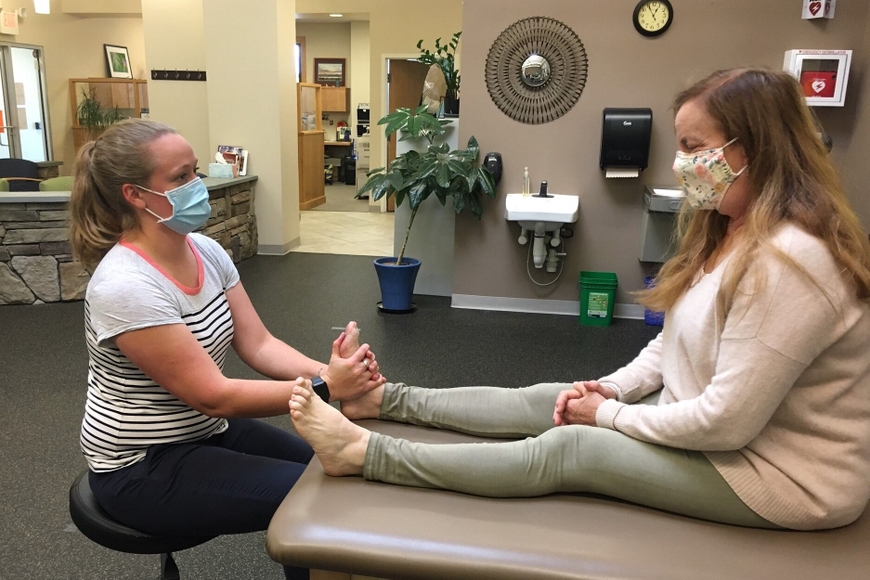 October is National Physical Therapy Month and there are many reasons to celebrate at PT360, from our amazing physical therapists & physical therapist assistants to our wonderful patients who keep returning to work with us year after year. Most importantly and more seriously, we are celebrating this year because we are still open and able to see patients despite an unprecedented global pandemic. The first few months were tough with being minimally open for patient care and transitioning mostly to Telehealth, not only from a financial perspective but also from a personal perspective. It was hard on us to be so distant from our patients and not be able to provide care within the full realm of our skill set.
It was that personal connection between therapist & patient that originally attracted me to the field of physical therapy. I always found the human body fascinating and thought that I would follow that interest into medical school. Junior year of undergrad rolled around and although potential med students were supposed to be preparing portfolios for applications by this point, I was procrastinating because I couldn't visualize myself as a physician. In talking it out with one of my professors, he told me, "Think of what you love to do and figure out why you love to do it – apply that why to a profession and you'll always love your work."
I usually spent the summers in college coaching for a spring girl's hockey program and working camps, which I absolutely enjoyed. I found joy in getting to know the players, whether they were 8 or 18, and helping them learn & hone the hockey skills they needed to achieve their goals. There was no better feeling as a coach than a player finally doing a move they've worked on repeatedly and skating back to you with a big grin on their face to ask, "Did you see that?" I realized that summer that this was why I loved to do what I loved to do. Combining it with my appreciation for the human body, physical therapy was a natural fit.
As a physical therapist, I meet new patients and get to know them, not only from the physical aspect of pain, movement, and function, but also from the personal level of goals, hobbies, pet peeves, and sometimes all the members of their family. I still get the same feeling of joy when a patient comes in with a big grin and tells me that they've finally done something they've been working towards, like walking their dogs around the neighborhood or getting back into their garden or even wiping their own rear end!
I've been with PT360 for seven years and am now at the point where I have patients who regularly choose to see me when something starts to hurt, when they've injured something, or when they just want to be able to do more in their daily life. It's an honor to know that there are people out there who consider me to be "their" physical therapist, just as they consider someone to be "their" primary care physician or mechanic or hairdresser. People like that, who choose to see us for help, are the ones who made it possible to reopen our doors and keep them open to provide in-person care with smiles, laughs, and a few bad jokes. We owe you our gratitude!
To say "thank you" to our patients and the people who have supported us through the years, we're raffling off gift cards to local businesses every week in each of our offices. You can drop your name in the raffle jar at the office OR comment on our Social Media posts on Facebook and Instagram to enter!
Next Blog Post
One of the leading causes of injury in the workplace is lifting objects too heavy and lifting incorrectly.  According to the Bureau of Labor and Statistics in a 2001 report, 36% of missed workdays were due to back and shoulder injuries. The leading causes of these injuries being overexertion and cumulative…