WATER VS. LAND-BASED EXERCISE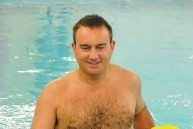 How to decide which is best for you.
Both environments have been used for strengthening and improving mobility and independence: which one is best for you? Think about where you are right now and where you want to be. What needs to change? How do you want to get there?
AQUATIC EXERCISE:
Water offers a unique environment that supports, assists and resists movement.
It has unique physical properties that stimulate circulation and improve C-V endurance strength with minimal activity, allowing you to improve your tolerance for movement when weakness or restricted flexibility is a limiting factor.
It allows you to be in control of your movement, moving at a pace that you can tolerate without the fear of falling or hurting yourself.
It supports learning how to move body parts that have been unable to move resulting from inactivity due to injury, surgery, or pain. This includes determining what muscles are working and coordinating muscle groups that allow for functional movement patterns.
It supports movement when it is limited by pain. Movement stimulates circulation and encourages healing with improved nutrition to the cells and cellular waste removal. Pain intensity is influenced by inefficient cell functioning like this.
When the body is supported, the pain intensity is reduced and muscle guarding diminishes. This enhances comfort, allows for improved movement and supports regular exercise. This can lead to improved restorative sleep.
LAND BASED EXERICSE:
Land based exercise is important to transition to greater freedom of motion where we all live. It follows best when the basic strength supports the postural alignment and individual joint stabilization necessary for safe activity.
Land based exercise allows for specific focus to further strengthen weakened muscle groups or activities to allow for greater independence.
Next Blog Post
Skiing and Riding season is in full swing, follow these guidelines to have a safe and fun season: Be sure to warm up and cool down properly. Gently stretch your calves, hamstrings and quads before and after riding. Wear appropriate equipment for your size and skill level. Make sure that your equipment…