PT 360 POST CONCUSSIVE SYNDROME PROGRAM (PCS)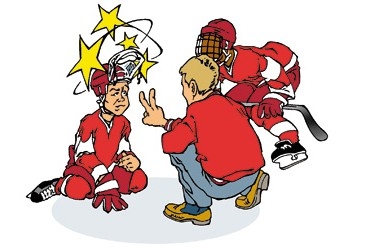 My child suffered a concussion and I'm not sure what to do…
The first step is seeking medical care. If your child has an athletic trainer that works in the school, take your child to see them. If not, visit your pediatrician or primary care practitioner. You will be advised to have them rest, both physically and with concentration activities, such as studying, computer use, or reading. Keep them out of play until released by a health care practitioner.
It's been several weeks, my child's headaches are continuing and they can't seem to recover. What should I do?
Concussions are very frustrating because no one can "see" the injury. Often, symptoms persist for weeks and sometimes months. PT360 offers a post-concussion syndrome (PSC) program that can help. We have a graded exercise program that will start at whatever level the client can tolerate. Progression occurs around symptom rating and exercises are determined based on how the client feels. The goal is to increase blood flow to the brain to help healing, without making the symptoms worse. Many patients feel that they are finally being pro-active because "rest" is getting old. Our program focuses on endurance, strengthening, stretching, cardiovascular re-conditioning and balance exercises. We constantly monitor symptoms and heart rate which help us to determine when and how fast to progress. We use the Biodex Balance System that tests balance and gives the client, family and medical team objective data in which
to show progress. We understand the many factors that influence symptoms and will control environmental factors such as sound and light, if that is an issue. Every program is individual, depending on the needs of the client.
Have you had success with your program?
Yes, we have. Our clients have found that immersing back into being active through the PT360 PCS program helps with decreasing post concussive symptoms and allow them to gain function and tolerate more of their daily activities. With time and rehab, their endurance increases, their ability to multi-task returns and they are able to resume daily and recreational activities, without increases in their symptoms. Our goal is to have every client return to their previous level of occupational and recreational activities.
How do I contact you?
PT 360 PCS Directors:
Maria Thibault, PT, ATC – Burlington office, 657-7990
Joel Desautels, MPT, ATC – Williston office, 860-4360
Heather Chernyshov, MS, ATC, NCTMB – Shelburne office, 985-9360
Next Blog Post
The latest research continues to show that prolonged sitting at work creates a multitude of health problems including obesity and increased risk of heart disease, diabetes and certain cancers all of which can lead to a shortened life expectancy. Even if you exercise regularly, the risks are still there.…