INTERVIEW WITH JOEL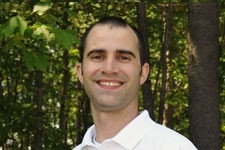 So the spotlight for August is on Joel Desautels, MPT, ATC. We wanted to know more about what makes Joel tick.
How long have you been in PT?
I've been an Athletic Trainer since 1998 and a PT since 2003
What made you want to go into this field?
My initial interest in Sports Medicine came about from having my own injuries as a high school athlete. Having some exposure to AT and PT through my own injuries peaked my interest and it happened to fit well with my love of science and working with athletes and people in general.
When you are not treating patients what is some of your favorite things to do?
I've got 2 little boys (Gabe is 5, Jonah is 3) and I love to play with them and do anything active with them. I also enjoy staying physically fit with running and weight training to keep feeling good and to participate in a few active events during the year like the marathon, Tough Mudders, Spartan events. I like to hike and ski.
What are somethings you are passionate about?
I really like what I do, my "job". Helping people get better from whatever ails them is rewarding and challenging. I get to work with and meet great people every day. I obviously like to work with athletes to prevent and recover from injuries but I also love to work with "normal" people to help them get back to what they love to do and encourage them to do more, be active and healthy. I love to teach and "coach" and those things are something I do on a daily basis. I act as a Clinical Instructor for both Athletic Training and Physical Therapy students and I really like doing that as well. I also like to get out in the community and give back as much as possible. I am a Special Olympics Board of Directors member and I'm excited to expand our services in VT and beyond to provide services and opportunities to be active and healthy for those with disabilities.
What is your favorite and least favorite things about living in Vermont?
I love living in VT. I was born and raised in northern VT and I did enjoy going away for grad school and for some time living out West in AZ. But VT is home. I have a hard time saying what my favorite season is because I love each one when it gets here! Our surroundings are beautiful and I think we take it for granted every day. I realized that especially after moving away and coming back to appreciate it even more. My least favorite thing…… I say in the winter all the time "I'd rather have 6 inches of new snow everyday than have it be 0 degrees" so I guess I would say I don't like the extreme cold temps!!
How do you stay healthy and fit?
See above
Favorite saying?
This is a tough one…. "No worries…" I say that all the time. My mantra I guess…. To not stress myself or anyone else out. Goes with my favorite song "3 Little Birds" Don't worry about a thing…. Some days are easier to pull that off than others!
Next Blog Post
We are told day in and day out how important it is to drink water.  But why is water so important?  Here are some things to think about.  The brain is 90% water by volume.  The lungs are 95% water by volume.  The muscles are 75-85% water by volume.  You start to get the idea.  Basically, along the course…