Holiday Fun without the Guilt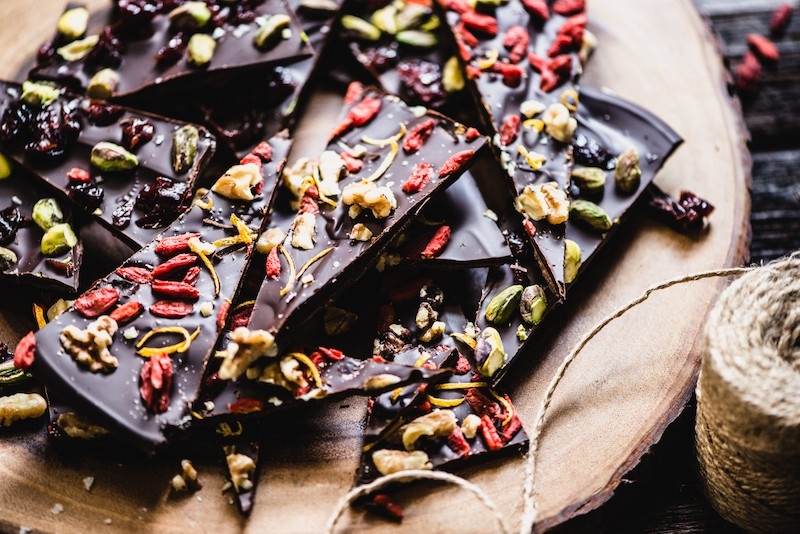 December is always a challenging month when it comes to food and trying to eat healthy. It seems like everywhere you turn, there are plates of holiday cookies or a Christmas party of some sort to attend. I have a few tips on how to enjoy those parties and holiday meals without the guilt!
1. DON'T SKIP MEALS
Don't save your appetite for a big holiday feast. Skipping meals may result in overeating. Research shows those who eat breakfast consume fewer calories throughout the day.
2. EAT SMALL PORTIONS
Eat in moderation. If you are at a buffet style event just take small sample portions of those too good to resist treats. Try using a smaller plate or drinking 2 glasses of water before heading out the door to your party. These small strategies can make a big difference.
3. KEEP MOVING
Stay on your regular workout routine whether it's at the gym or attending a yoga or spin class. Get out for walks during your lunch breaks and on the weekend, park far away when shopping to get your body moving. Try wearing a pedometer or use a Fitbit for motivation on getting in 3000 steps daily. This will be a strong reinforcer to continue eating healthy during the tempting holiday events.
4. PICK A STRATEGY TO AVOID OVEREATING AND STICK TO IT
You may already have your own strategies that you plan on using during the holidays. Stick to it! Invite a friend to use healthy eating tools with you. Try using smaller plates, drinking more water, fill your plate with veggies first, eat slowly, and don't go back for seconds.
5. BRING DESSERT
Don't be shy about offering to bring dessert to a party. You can find many options now that are healthy with less sugar and using wholesome ingredients. You will feel good about sharing and eating your healthy dessert. The best part about bringing your own dessert is that it's a great opportunity to show others that healthy doesn't have to mean boring or bland.
TWO EASY RECIPES TO TRY AT YOUR NEXT HOLIDAY EVENT
CANDIED PECANS AND WALNUTS WITH ROSEMARY
Sweet and savory. Add this to your charcuterie board - they're absolutely delicious!

Ingredients
1 egg white lightly beaten
2 tbsp. honey
2 tsp. fresh rosemary chopped
¼ tsp. salt
1 cup walnuts
1 cup pecans
Instructions
Preheat oven to 250 degrees and line a baking sheet with parchment paper.
In a small bowl, whisk together the egg white, honey, rosemary, and salt until well combined.
Add the walnuts and pecans, stirring until coated.
Dump the nuts onto the baking sheet and arrange in a single layer. Bake for 15-20 minutes or until glazed and crunchy.
Store covered for up to 5 days.
DARK CHOCOLATE BARK WITH DRIED FRUIT
Ingredients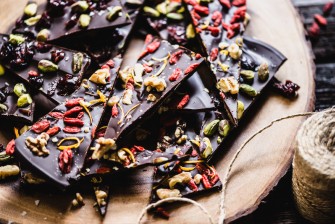 1 lb. high quality dark chocolate
2 cups dried fruit (can use sour cherries and/or goji berries) - chopped
2 cups nuts (1/2 pistachios and half walnuts) - chopped
Zest of 1 orange
Coarse or flaked sea salt optional
Instructions
Line a rimmed baking sheet with parchment paper
Melt and temper the chocolate using a hot water bath for best results.
When the chocolate has cooled to touch, spread the melted chocolate onto parchment sheet until it's between 1/8" to ¼" thickness.
While the chocolate is still wet, sprinkle on your toppings. I put half nuts on one and half fruit on the other.
Let the chocolate harden at room temperature. This could take over an hour depending on the temperature in your house. I don't recommend cooling in the refrigerator.
Once its hardened, chop the dark chocolate bark into whatever size pieces you like.
Store in a covered container for up to a week or more.
Next Blog Post
There's a passage in the Bible where God says to the snow, "Fall on the earth." He then says to the rain-shower, "Be a mighty downpour."   I discovered these passages as I continued reading Shauna Niequist's Present over Perfect and like Niequist, something changed in me when I read those words.  Everything…