GETTING THE RIGHT MASSAGE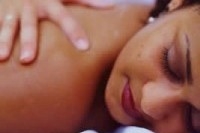 Massage Therapy
Massage therapy has been studied in pain management for a long time, and has been found to provide effective relief for a variety of conditions. Whether you suffer from arthritis, fibromyalgia, shoulder pain, low back pain or some other form of chronic pain, research indicates that massage can help.
Some of you, when picturing massage, might first think of candlelit rooms, soft music and the pampering experience of having someone loosen your stressed, tight muscles for an hour. And massage therapy is extremely effective at helping you relieve stress. There are, however, myriad techniques and modalities available that can be useful in a variety of situations, including helping your body after injury and aiding you in preventing injury.
Find out how the right massage can help to relieve stress and loosen tight muscles.
Here are three basic types of massage and what they offer:
SWEDISH MASSAGE is the most common type of massage requested, and can be used when you're looking for relaxation and stress relief.
DEEP TISSUE can help with muscle damage from an injury, such as whiplash or back strain.
SPORTS MASSAGE is ideal for athletes who are looking for ways to help prevent injury by keeping the body flexible.
If you have questions about what modalities might work best for your goals for massage therapy, ask your PT 360 massage therapist for an explanation of the modalities they offer.
Remember, too, the therapeutic benefits of massage are cumulative, so the more often you get a massage, the better you will feel and the more quickly your body will respond.
Next Blog Post
PT360 is excited to welcome its first new owner, Lisa Tidman into our cooperative family. Lisa is a physical therapist assistant, massage therapist, and yoga instructor. She has been employed at PT360 for two years. We have expanded from 11 to 12 owners and look forward to extending the arm of ownership…