GET TO KNOW THE OWNERS!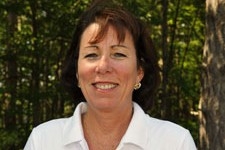 Welcome to our new monthly series where each month we will get to know each of the owners a little better outside of the clinic.
The spotlight this month is on Mary Steiger, one of our founding owners and president.
When Mary is not working hard to keep PT360 operating smoothly or seeing patients she enjoys reading period novels and autobiographies. Her current favorites that you should check out are: The Other Boleyan Girl, The Paris Wife, and Audrey Hepburn, An Elegant Spirit: A Son Remembers. Next time you see her make sure to see what"s currently on her reading list for more great suggestions.
Mary loves to spend time with her children, family, and dear friends any chance she can; along with traveling to new places. She is always looking for new ways to volunteer and meet new & interesting people. She loves to boat and gardening is the beautiful summers of Vermont. She has a 2 year old Cock-a-poo named Buddy who loves to take long walks with Mary, along with soccer and car rides.
Passion for her family, long term friendship and creating new memories go hand and hand with her passion for helping others. Being a physical therapist gives Mary the ability to meet different people with different goals and help them rehabilitate to achieve those goals.
Her favorite thing about Vermont is the scenery because "Vermont has it all". Her least favorite thing we can all relate to in the long dark winters are. But she does use the winter months to stay active doing snow shoeing, x-country skiing, and walking. In the spring and summers she is active by boating, biking and walking.
Look forward to next month and our next PT spotlight. Let us know if you have any burning questions for the PT"s.
Next Blog Post
Keep Kids in the Game for Life Through the STOP Sports Injuries CampaignHealthcare and, Business Leaders, and Professional Athletes Join Forces toHelp Young Athletes Play Safe and Stay Healthy PT360–– Today, leaders at PT360 are coming together with the American Orthopaedic Society for Sports Medicine,…