Cooking with Katie - 3 Ingredient Brownies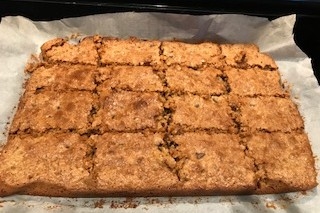 If you read my last blog recipe, you would know that I am a self-declared terrible cook. I forgot to mention, I am also a terrible baker. For some reason, I am truly incapable of sifting, measuring, rolling, and I'm very prone to over pouring and burning. C'est la vie!
That's why I love this particular recipe so much. My dear friends made these last summer and when they told me how easy they were to make, I was sold. Imagine: gooey, chocolately graham-crackery goodness and only THREE ingredients. That's right, three! On your mark, get set, get baking!
Ingredients: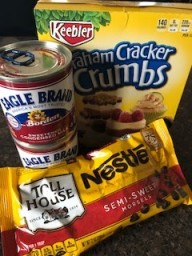 Eagle Brand Sweetened Condensed Milk- 2 cans
Semi-Sweet Milk Chocolate Tidbits- 2 cups
Graham Cracker Crumbs- 2 cups (or 2 pkgs Honey Maid Graham Crackers but then you have to crunch them yourself)
You'll also need:
A large mixing bowl and spoon
Parchment paper
9x13 baking pan
Cooling rack
Instructions:
Preheat oven to 350 degrees.
Add all 3 ingredients in a bowl and stir together.
Place parchment paper to cover the bottom of the pan and sides.
Spoon the mixture into the baking pan and spread evenly.
Bake on the middle rack for 30 minutes. They are done when the sides are dark brown and the middle is evenly brown.
Let cool in the pan on a cooling rack for 10 minutes.
**Important step** After the 10 minutes, take the brownies out of the pan in 8 sections to cool on the cooling rack. This allows the brownies to firm and prevents any sticking.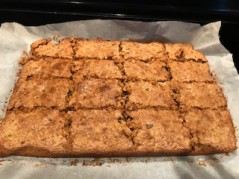 There you have it - a fail proof sweet treat that even I can manage to bake! So pour yourself a tall glass of milk and enjoy your baking success. You don't even have to tell anyone how easy these were to make or that there were only 3 ingredients.. Your secret is safe with me!
Next Blog Post
You heard me – curling REALLY is an Olympic Sport!  Four of us found that out a few weeks ago when we participated in the Howard Center's 2018 Curling Challenge at Cairns Arena in South Burlington.  We PT360ers love fundraising events, especially when it takes the form of a fun challenge, so of course…