ADDRESSING YOUR JAW PAIN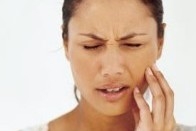 Now that the holidays are over, it is time to unwind a little and take care of yourself. One of the potential side effects of activities like standing in line for last minute holiday gifts, bringing the extended family together, and eating holiday treats, can be jaw pain and soreness. Did you know that tension in your jaw muscles can also contribute to headaches, grinding/clenching of your teeth, locking of your jaw, ringing of the ears, and other problems? There are many different factors that contribute to jaw pain, but anxiety, stress, and insufficient care can perpetuate the problem.
If this describes you, here are some tips that may be helpful:
Moist heat can help your muscles relax. It is easy to make your own heat pack by placing dry rice or beans in a cloth pouch, then heating them in the microwave. Make sure that you don"t leave it in the microwave for too long… you don"t want to burn yourself!

Try to give your muscles a break… stop chewing gum, avoid tough, hard and/or crunchy foods, and remind yourself to stop clenching/grinding if this is a habit.
Massage the tight muscles. After washing your hands, place your index finger inside your cheek and gently massage the sore muscle by rubbing it between your thumb and index finger. Make sure that you do this gently as your jaw muscles are tiny compared to many of the other muscles in your body!

If you have any questions or concerns, feel free to call us at PT 360. We can be reached at 860-4360 (Williston), 985-9360 (Shelburne), or 657-7990 (Burlington).
Next Blog Post
With the onset of cold temperatures, snow, and ice, there is a tendency for many of us to minimize our physical activities and stay inside where it is warm and dry.  Unfortunately, little to no physical activity, over-indulgence throughout the Holiday season, and too much cheer can add up to unwanted…